Are you fans of Pacman? Did you know that today (22nd May) is Pacman 30 year's anniversary? Pacman is one of my favourite childhood games. I still remember the sweet moment playing Pacmac in Yaohan (one of the biggest Japanese store), Brunei.
Today, Google has changed its homepage logo to a fully playable Pacman game. The design comes alone with single player and double player. If you wish to play double, remember insert your coin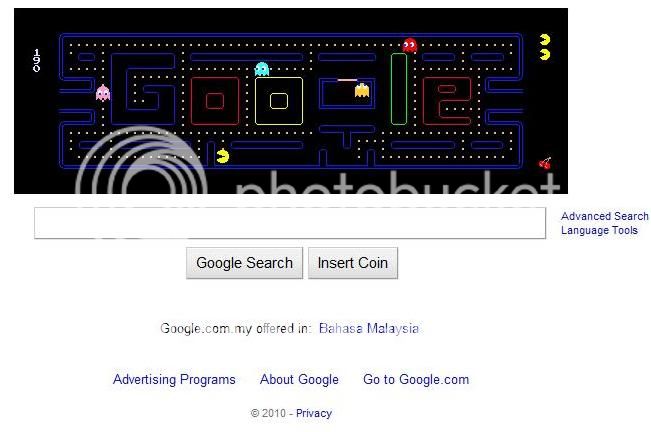 A Little History about Pacman
Pacman is an arcade game which developed by Namco. The first released was in Japan on May 22, 1980. Pacman has become one of the longest running video game since 1980.
Here I attached Pacman game for you to play around. Hope you like it
If the above Pacman game cannot fulfill your hunger, you may visit to http://www.pacmangame.org/ for more invented Pacman games.
by Simon
Good day everybody. Have you ever spending hour and hour's in-front of your computer doing unproductive internet surfing?
I found this interesting plug-in for my Google Chrome browser. This plug-in basically help you stay focused on your work by restricting the amount of time you can spend browsing time-wasting websites. You may choose to restrict any website or web-page you want.
For example your favorite social web, Facebook. You know and you are fully aware that you have tons is homework or office works pending for you to do or final exam ahead. However, you couldn't limit yourself accessing to Facebook checking on your friend's status, get addicted playing on Facebook games etc. What you need to do is limit your accessing time to these website or completely restrict it.
Here are the installation steps:-
1. Proceed to StayFocusd homepage.
2. Click on the "Install" button.
3. A StayFocusd logo 
should appear on the top right of your bookmark bar.
4. Go to the website you wish to set time restriction (default is 10 mins)
5. You may choose to block entire website or just certain web-page.
6. You are done! A countdown timer shall start immediately.
Hover to "Setting" anytime if you would like to amend the restriction time. Please put extra precaution on "The Nuclear Option". Once you have set it, there is no way for you to cancel it.
At last, I hope this plug-in really can help you "Stay Focused" on your Work, Study and Exam.
by Simon